Hi and welcome to my blog. Happy Hoppin' along with Five Question Friday!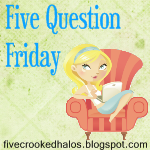 1. Where did you meet your spouse and did you instantly know it was love?
At my sisters work, restaurant/bar
2. What is your favorite room in your house?
The kitchen - it is warmest and it is where I can always find everyone.
3. Can you wiggle your ears?
Nope Nope
4. What is your evening ritual?
dinner, play time and baths, pickup time, bed(except monday night then its CASTLE then bed :})
5. How many hours of sleep do you need to function?
At least 3